Weddings and Vow Renewals
As a practicing minister, Rev. Frakes can facilitate a wedding or vow renewal in Sedona, the Grand Canyon or any number of places in the Greater Southwest for you in a variety of circumstances, from a medicine wheel ceremony to a remote wilderness location, or a variety of other possibilities best suited to your union and the specific interests of the wedding party.
Clint's spiritual background is from the ways of the Northern Plains, and he welcomes the bride and groom to put their own fingerprint on the ceremony and can include any system of faith as part of the ceremony. Together you will create a special ceremony for you and your guests that reflects your own understanding of the Great Spirit, regardless of the age of the participants, cultural background or spiritual beliefs.
For those who want to renew vows in a ceremony that reflects your love for each other, as you move through a new passage of life, this can be done in the context of a Sedona Land Journey and medicine wheel ceremony combined. Ceremonies can be conducted at any location visited by Sedona Sacred Earth.
Details by arrangement after initial phone or Skype discussion.
Deposit: $200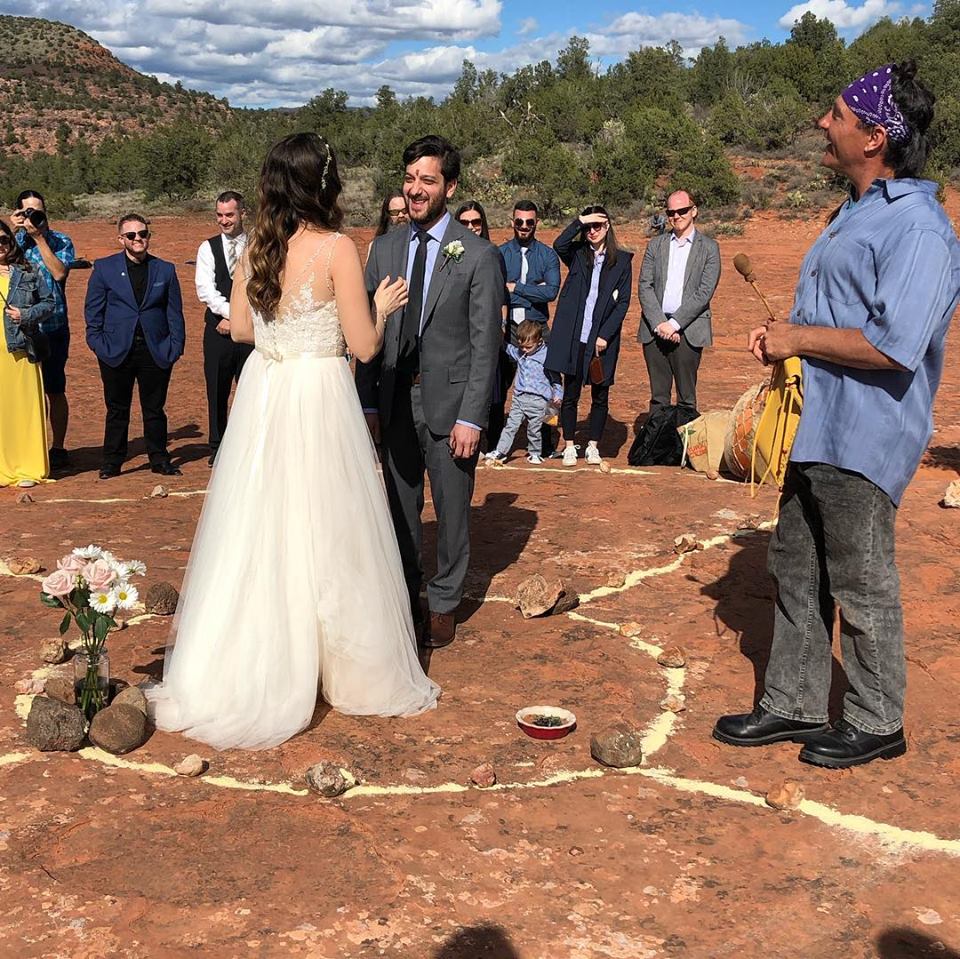 Sometimes experiences exceed our vocabulary and words just don't do the experience justice.

We connected with Clint for two purposes, first a group Journey and second to officiate my daughter's wedding. For our group of 17, Clint assembled a wonderful team of guides for our Journey. They mindfully, graciously and heartfully met the personal needs of our group, ages 6 to 60+. The guides were all very experienced and knowledgeable. Every single one of us had a wonderful, personal experience!

As an officiant, Clint was dedicated, compassionate, honorable and authentic. He met with the bride and groom prior to our arrival, learning all he could to personalize their ceremony. On a pre-wedding trip, he met with us to go over details and look at possible wedding venues, even offering his own property as a backup plan.

Once in Sedona, he offered his services and support for anything we might need. He created sacred space, by building a medicine wheel just for the ceremony, which was personal, intimate and magical, full of meaning and honored the requests of the bride and groom. Clint is thoughtful, knowledgeable, wise and authentic. His ability to educate from a place of gratitude was magical and fulfilled everyone's individual needs.

We look forward to returning to Sedona and having Clint guide us again on another amazing adventure.